With increased demands put on healthcare system in general, crucial role of CNAs is even more obvious today.
They are not only able to give professional care to patients in long-term care institutions and other venues, but also to quickly react and report any changes to a supervising professional.
This makes them essential workers on the front-line of healthcare, improving the quality of life for senior population, helping improve the quality of their lives.
CNAs annual average salary in Delaware is $33,210 - ABOVE U.S. AVERAGE!
New Castle County Vo-Tech School District – Adult Education Division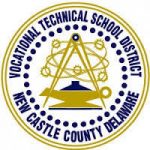 165 hours of quality CNA education is offered here; you can expect to spend it both in the classroom and performing real clinical practice.
The learning process follows best didactic practices and includes an introduction, enrichment classes, and finally, review.
This way they gradually but thoroughly learn about topics like anatomy, long-term care, hygiene, rehabilitation and restoration, nutritive skills, provision of oxygen, emergency care, ethics and law, dementia help, and infection control.
Monday and Wednesday are spent in class and clinical practice here (a clinical practice also requires further 2 or 3 Saturdays) at a minimum.
To become a student here, you have to prove at least 10th-grade reading skills.
Tuition will cover the state exam, but not a criminal background check, drug test, uniform, or supplies.
Visit School Website

Address: 1703 School Lane, Wilmington, DE 19808
Del Tech-Wilmington Campus
At this campus, students will learn to provide quality medical care while respecting norms and safety procedures.
Directed by an experienced nurse or medical doctor, 160 hours of this program will last 11 weeks and is divided into 44 classes (Mo – Thu, 6 pm – 10 pm).
The goal is to teach a future CNA everything he or she needs to know to perform their task well: physical and social support, individualized care, communication, observation and reporting, emergency procedures, infection management, and supporting patients' rights.
Everyone who graduates become eligible to take the state certification exam.
Attending an orientation session is mandatory before registration for this course (first Tuesday every month, 12 am – 5 pm).
For the tuition of $2,395, students also get textbooks and uniforms; it also covers the state exam, drug test, CPR, and criminal background check fees.
Visit School Website

Address: 333 Shipley Street, Wilmington, DE 19801
Maggie Career Institute

This institute promises to prepare students for the state exam in no more than five weeks (for ambitious attendants).
The classes meet Mo – Fri, 8 am – 3 pm daily, and there is an evening schedule too (Mon – Fri, 3 pm – 10 pm).
Candidates will not be accepted if they aren't at least 18 and don't pass a criminal background check, provide immunization proof, PPD or x-ray results, pass a physical exam, and supply a photo ID.
For tuition of $2,250, students also gain scrubs, school ID and white shoes; CPR certificate, drug test, and state exam fees are also covered.
The payment plan is adjustable to individual needs, and those who need it can seek support through the Labor Department.
Visit School Website

Address: 102 Larch Circle, Suite 104, Wilmington, DE 19804
---
CNA Schools by City in Delaware
See all schools in Delaware >