Fort Wayne stands proud as one of the oldest and largest cities in Indiana.
In recent years the city developed a lot and it provides great stability.
The school system is excellent and you will find many great career starting points.
CNAs annual average salary in Indiana is $30,901 - ABOVE U.S. AVERAGE!
Quality Training Of Fort Wayne Inc.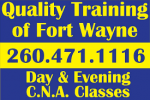 Quality Training of Fort Wayne is a proud and professional educational facility that really provides high-quality training. Discover your inner skills and calling with our comprehensive and dedicated programs. All our teachers are trained to follow the national quality standards of education and to give you the best career start.
Totalling 103 hours, our CNA program consists of 30 theory hours and 75 real-patient care hours that will form you into an excellent professional. In just a few days you will embrace a bright new future.
Visit School Website

Address: 2250 Lake Ave, Suite 280, Fort Wayne, IN 46805
Fort Wayne Community Schools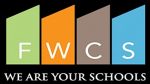 Fort Wayne Community Schools gather the very best vocational and theoretical colleges and schools to give you a very wide range of educational options and development courses. We strictly follow the state curriculum and we also added some of our own skills and classes to give you the best possible experience.
In our CNA program, we will teach you basic nursing principles, hygiene, patient care, infection control, feeding techniques, empathy, and public speaking that will greatly contribute to the quality of your work.
Visit School Website

Address: 1200 S Barr St, Fort Wayne, IN 46802
Ivy Tech Community College

Ivy Tech Community College stands for quality, performance, and efficiency in all the vocational and theoretical programs we provide. Our amazing teachers are trained to be warm, understanding but very comprehensive and professional at the same time. We will guarantee you amazing quality for the price of the tuition.
In just 105 contact hours you will be able to say that you are one of the proud contestants for the state exam. We are proud to say that we have one of the highest pass rates in the whole state.
Visit School Website

Address: 3800 Anthony Blvd, Fort Wayne, IN 46805
Miller's Merry Manor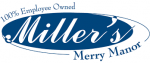 We at Miller's Merry Manor make sure that all our residents have interesting daily activities and lead a very happy life. Our dedication and performance are hard to compare with other institutions. We also provide excellent care and nursing courses for the students that want to learn how to properly take care of a patient or for the professionals who want extra skills.
75 hours of lectures and 40 hours of classroom instructions are all that you need to be eligible to challenge the national exam. We will teach you how to professionally and morally take care of any patient.
Visit School Website

Address: 5544 E State Blvd, Fort Wayne, IN 46815
Lutheran Villages

Lutheran Villages are an amazing community and care institution that will carefully take care of your loved ones. In addition to this task, we also offer formation courses for prospective nurses and medical professionals. Your biggest advantage of studying here is that you will get the opportunity to learn from active professionals.
Our CNA class requires full participation to receive the final diploma. But the biggest advantage is that if you study hard and prove to be a dedicated professional you can receive a permanent job offer from us.
Visit School Website

Address: 6701 S Anthony Blvd, Fort Wayne, IN 46816
Resq Training
Come and learn from the best of the best at Resq Training, one of the most professional and respected medical education institutions in the state of Indiana. You will find all our programs and facilities very modern and with a real-life perspective and approach. The price of the tuition is very affordable and certain financial aid can be granted.
The CNA program includes the much-needed Basic Life Support course that is mandatory for the state certification exam. In a few short weeks, you will have acquired everything to take on the state test and to get an entry-level position.
Visit School Website

Address: 1747 St. Mary's Avenue, Fort Wayne, IN 46808
Premier Nursing Academy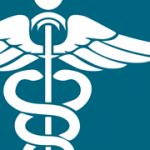 Premier Nursing Academy offers premium medical education that respects national and international trends and focuses on the skills and techniques that are really important and valuable. Our school is recognized by many medical institutions and it will be an excellent starting point for any medical professional.
The CNA class provides real-life experience and teaches an empathic and efficient patient care approach. You can finish this program in 4 or 6 weeks, depending on your schedule choice.
Visit School Website

Address: 3210 Stellhorn Rd. Suite A-1114, Fort Wayne, IN 46815
Renaissance Village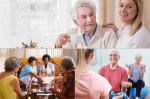 Fun, relaxing and with a permanent vacation feeling, Renaissance Village is the ultimate place to recover from illness or to spend the senior years. Leisure activities, careful medical monitoring, and an amazing community are just some of the characteristics of our institution. We also provide high-quality nursing classes for those looking for a career in this field.
Among the nursing programs, the CNA stands out as a fast and intensive choice. You will be able to care for patients in a matter of weeks and we also provide job placement assistance.
Visit School Website

Address: 6050 S Cr 800 E 92, Fort Wayne, IN 46814
Towne House Retirement Community
Towne House Retirement Community is a tranquil and relaxing place for elders to retire or for people to recover from injuries or surgery. Our dedicated staff carefully cares for all our patients all around the clock. Besides this high-rated care, we also designed special courses that can be accessed by medicine and care enthusiasts.
One of our most famous courses is CNA. This profession is extremely popular nowadays given the extreme rise in the need for caring professionals for the patients of countless institutions.
Visit School Website

Address: 2209 St Joe Center Rd, Fort Wayne, IN 46825
Omega Healthcare Systems Health Education Center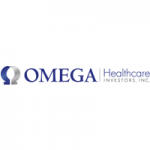 Omega Healthcare System Health Education Center is part of a very large and appreciated medical care center that has locations in many cities. The goal of this educational center is to form new healthcare professionals following the quality standards and vision that contributed to the care of thousands.
Our CNA program is designed to prepare you for this empathic and amazing career in a very short time. Your teachers will be experts that cared for and healed countless patients.
Visit School Website

Address: 519 Oxford St, Ft Wayne, IN 46816
---
CNA Schools by City in Indiana
See all schools in Indiana >