Topeka stands in the middle of one of the most beautiful areas in Kansas.
The job and development opportunities here will make you want to stay in this place forever.
If you are looking for a place to study, Topeka has many excellent CNA classes.
CNAs annual average salary in Kansas is $30,016 - ABOVE U.S. AVERAGE!
Bryan University

Bryan University is rated as one of the top choices for upper education in Kansas. The university covers a very wide range of programs and topics, having a very modern and innovative teaching approach. You will find everything you need from modern teachers and comfortable facilities that will make your stay here efficient and professional.
The CNA program is made from practical classes in healthcare institutions and theory lectures. The classes will teach you everything from disaster training, patient care, management, stress management, and many more.
Visit School Website

Address: 1527 SW Fairlawn Rd, Topeka, KS 66604
Washburn Institute of Technology

Washburn Institute of Technology provides the best practical and technological programs in the whole state. You will find the perfect equipment and facilities to polish all your skills and knowledge. The professors and trainers are very well-trained and prepared to take you from basic skills to advanced knowledge.
The CNA class can be accessed by anyone, including high school students. The program provides 5 credits and it takes a very short time to complete and to train for accreditation and final exams.
Visit School Website

Address: 5724 SW Huntoon Topeka, Kansas 66604
Allentown Community College – Burlingame Campus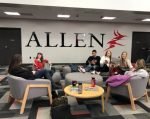 Allentown Community College is one of the most diverse and welcoming places to begin your career. The programs are designed to give you the very best education and useful skills for the future. All the programs are tailor in close collaboration with education specialists to make sure that will not waste a single minute here.
The CNA program is available for students 16 or older and it has very friendly application requirements. During this program, you will be trained for acute patient care, long-term care, and micromanagement.
Visit School Website

Address: 100 Bloomquist, Burlingame, KS 66413
---
CNA Schools by City in Kansas
See all schools in Kansas >